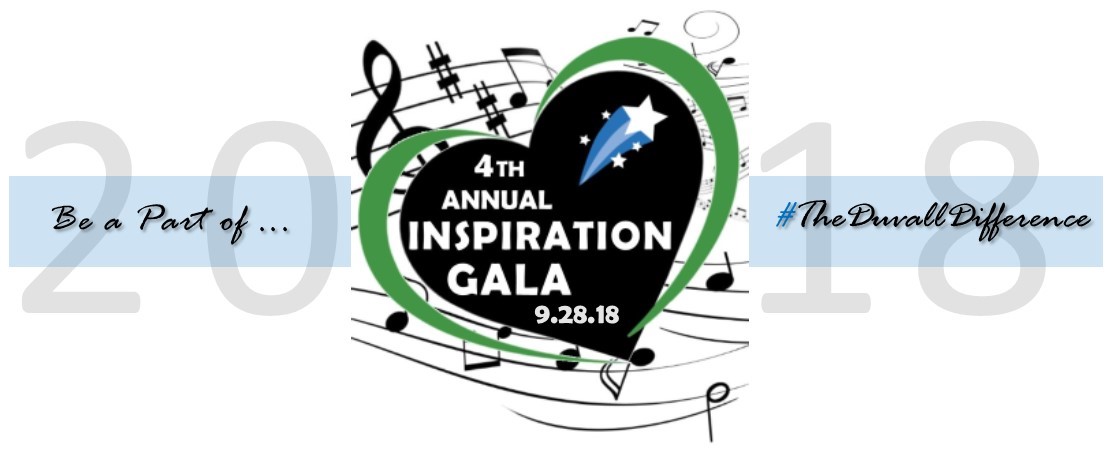 How Your Gifts Work  |  Friendship Society
Planned Giving  |  Volunteer  |  Churches
Our Caring Supporters  |  Donate

Sponsor A Table At The 2018 Inspiration Gala
NOW OPEN
The Board of Regents of Duvall Homes proudly presents the 2018 Inspiration Gala, presented by Reames Employee Benefits Solutions at the Wayne G. Sanborn Center in DeLand on September 28, 2018. Similar to last year's inspirational celebration, guests will be entertained with live music and award-winning fine cuisine while we recognize outstanding community partners and volunteers, and celebrate the many achievements of those living with developmental disabilities we serve. For highlights from last year's Gala, click here. For details on this year's sponsorships, tickets and more, visit DuvallHomes.org/Inspiration-Gala.
Donate A Gift Card To Gala Silent Auction 

NOW – SEPT 10/18 
This year promises to be the best Silent Auction ever with tickets to various Central Florida attractions and other lofty vacation destinations, fashion items, wine and art baskets and so much more. Closer to the event, a detailed list of Silent Auction items will be posted at DuvallHomes.org/Inspiration-Gala. In the meantime, if you're interested in supporting the fundraiser through the donation of a Gift Card, please mail the card to: Duvall Homes [2018 Gala] 3395 Grand Ave., Duvall Home, DeLand, FL 32720. Be sure to specify if you'd like recognition in related Silent Auction materials by providing your Name and/or Company Name, or if the donation is in memory of a friend or loved one. For additional details, email lhabermehl@duvallhomes.org or call 386.734.2874. There is also a donate button below in case there is a preference to donate online. Simply specify "2018 Gala" with your donation. Thank you!
Provide Support For ADT's Program Materials
There is always a need for materials and supplies in our Adult Day Training Program located in Duvall's Opportunities Enrichment Center. Currently, there is a need for the following items: White cloth napkins (200); Rolling hamper with 2-3 compartments; Large trash cans on wheels (2); Over-ear headphones; Water coolers for each classroom (approx. 6 to 8); New TV and cart for Vocational Training Center; Wooden sensory beads/other life-long learning devices; ADT Mini Van (2). To better understand the need for these items, contact ADT Director, Shirley Zonnevylle at shirleyz@duvallhomes.org. To discuss donor support, please contact Duvall's CMDO, Elizabeth Bhimjee @ ebhimjee@duvallhomes.org or call 386.734.2874 x102.
Shop or Donate Furniture To Duvall Bargain Store
Shop at the Bargain Store of Duvall Homes at 1200 Deltona Bvld. Monday to Saturday 9 a.m. – 5 p.m. In a 7000 sq ft shopping space, you'll find rock bottom prices of gently used household items, furniture, dishes, appliances, clothing and shoes for all ages, toys, pictures, books and more. You can also donate items by calling 386.734.2874. All proceeds from the sale of donated store items benefit the residents of Duvall Homes.
Help Fund Generators For Group Homes
GOAL MET!
Following Hurricane Matthew in 2016 and Hurricane Irma in 2017, sufficient funds were raised to purchase hardwired generators and propane tanks for our group homes. Following permits and preparations, each generator was installed with transfer switches allowing the generators to turn on automatically when the power goes out. This now enables residents to remain in the comfort of their own homes and beds with sufficient lighting, air and food preservation, and allows Direct Support Professionals to perform essential duties that require power to fully care for those in our care. Read related stories in the following Duvall Newsletters:  2016 Fall Newsletter (pages 4 to 5) and 2017 Fall Newsletter (pages 3, and 8 to 11)
Furniture Replacement Fundraiser
GOAL MET!
For National Developmental Disabilities Awareness Month (March 2017), Duvall Homes kicked off a Furniture Replacement Fundraiser with the focus of raising funds to replace worn chairs (indoor and outdoor) in the Opportunities Enrichment Center and aged furniture in some of our Group Homes.
Just the way your home or office requires new furnishings from regular wear-and-tear, so do the living and educational spaces used by those in our care.  Various denominations of $35/chair were donated; enough was raised to furnish all of Adult Day Training with new armed chairs.
Shop Smile.Amazon. com
Shop at Amazon


AmazonSmile is a program that donates 0.5% of your purchase price of eligible products to Duvall Homes.  It's simple. You shop. Amazon gives. Just sign in here at https://smile.amazon.com/ then select Duvall Homes.
Donate Online
Donate online by clicking here. Donate by phone by calling 386.734.2874. Donate by mail by sending a check payable to Duvall Homes to P.O. Box 220036, Glenwood, FL 32722. Thank you for your support and understanding of this need! For additional information, please contact Elizabeth Bhimjee, Chief Marketing & Development Officer 386.734.2874 x102 ebhimjee@DuvallHomes.org
DaVita Labs Beautifies Landscape
There are numerous ways to give and make an impact in the lives of others. Above, in 2014, 80 volunteers from DaVita Labs' offices in DeLand and Ft. Lauderdale cleared brush, planted flower beds and shrubs, and added mulch to several acres surrounding five group homes. More than 900 plants were installed. DaVita also donated $3,000 toward the cost of the materials needed to enhance the group home properties. If you are considering getting involved, click on the links below to learn how you can make a difference in the lives of people with developmental disabilities.