November 2, 2019 – "Dear Duvall Homes' Team Member, without your commitment to helping others, the people in our care would be at risk. Instead, you bring joy and comfort to them each and every day, and the impact of your generosity and kindness has made a true difference in their lives. The greatest gift you give this holiday season is your selfless compassion." – Steven DeVane, CEO
Our Employees Are #TheDuvallDifference
Thanksgiving Gift Card – A Gift From Duvall Homes Management Join our "Give Thanks" well wishes by sharing a message or image of what you're grateful for this Thanksgiving Season. Share your comments with us on Instagram at #ImInspiredDeLand, Facebook.com/DuvallHome, Duvall's Google Page or you can email Lisa Habermehl at lhabermehl@duvallhomes.org. We'd love to hear from you!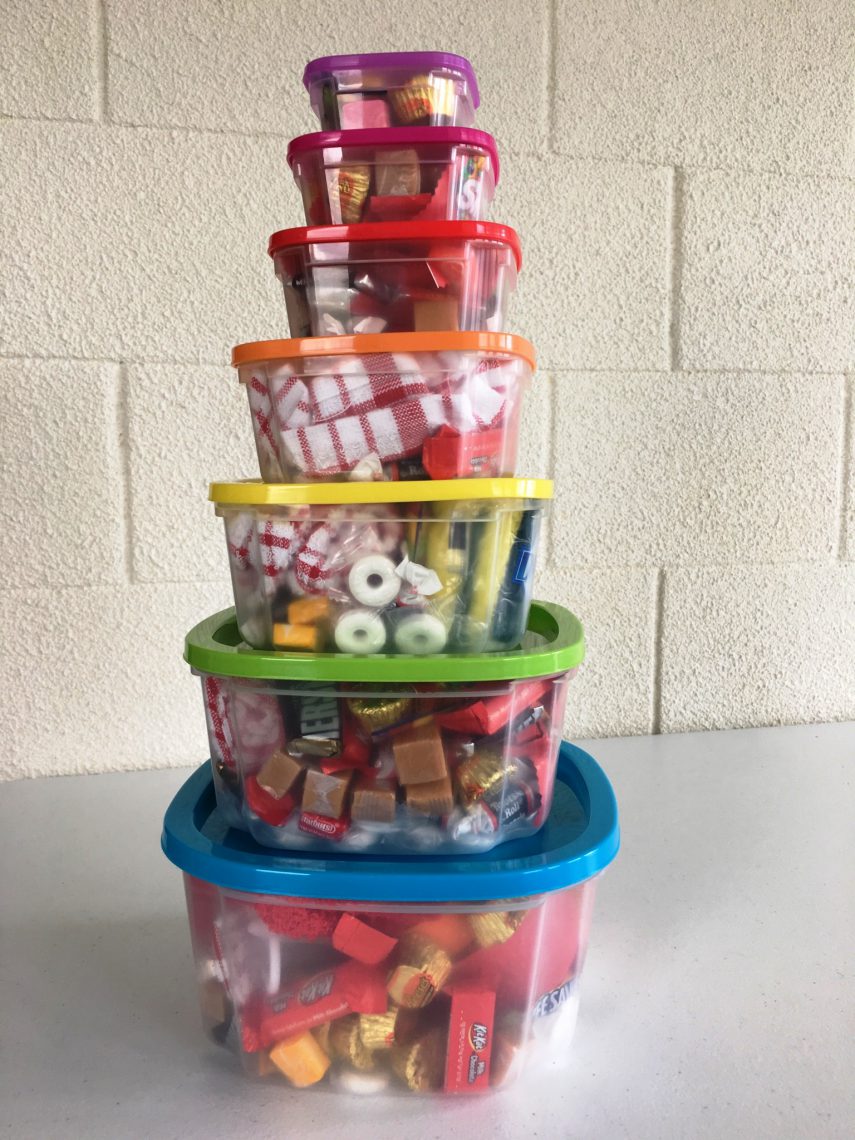 Guess The Number Of Candies & Win Donated by Marsha Shankleton, Chief Operating Officer. Guess the number of candies in the containers without going over, and win the candies, containers and some other valuable surprises inside. The total value is $100! A photo and dimensions are at DuvallHomes.org/Holiday-Fun. Submit your guess with your name and department by December 1 via email to Lisa Herring at lherring@duvallhomes.org or by calling 386.734.2874 x119.  The winner will be announced before Dec. 25. (Tower of Candy Dimensions: 17″ tall, Approx Container Sizes 1 – 2.5″ x 2.5″; 2 – 3.25″ x 3.25″; 3 – 4″ x 4″; 4 – 4.5″ x 4.5″; 5 – 5.5″ x 5.5″; 6 – 6.5″ x 6.5″; 7 – 7.25″ x 7.25″) 
WINNER ANNOUNCED – Click here.
You Are Part Of The Duvall Difference Tell us your T-shirt size (MED, LG XL, 2XL, 3XL, 4XL, 5XL) by December 1 and receive one new royal blue "I am part of the #TheDuvallDifference" T-shirt for free!!! Tell us your name, dept. and T-shirt size by emailing Lisa Herring at lherring@duvallhomes.org or by calling her at 386.734.2874 x119.  Additional T-shirts can be ordered for only $5 each!  The first free T-shirt will come with a raffle ticket for a chance to win another small personal gift to be drawn before December 25. Winners will be announced at DuvallHomes.org/Holiday-Fun.
Holiday Bonus – A Gift From Duvall Homes' Management, Families and Friends We appreciate you!  Let us know how you spend your card. Share your words and photos with us on social media and be sure to include the hashtag #TheDuvallDifference and/or contact Lisa Habermehl at  lhabermehl@duvallhomes.org, or 386.734.2874 x 116. Also, if you plan to use your holiday bonus on Amazon, please shop on Smile.Amazon and select "Duvall Homes" as your nonprofit. It won't cost you a penny more, and Duvall will receive a small donation from Amazon for each purchase you make!
#TheDuvallDifference