Welcome to the Bargain Store of Duvall Homes
We sell donated household items, furniture, clothing, shoes, toys and more.
All proceeds benefit the residents of Duvall Homes.
Location
1200 Deltona Blvd. Deltona, FL 32725 (386)860-4110
New Bargain Store Hours 
Monday to Friday 10 a.m. to 5 p.m.
Saturdays  9 a.m. to 4 p.m.
Pickups
Arrangements for pickup can be made for most donations by calling (386)734-2874.
Customer Appreciation
Spend $10 or more, 10 times, and receive $10 worth of merchandise, no charge!
Bargain Store News & Events
Grand Re-Opening March 9, 2018
Customer Appreciation
Bargain Shopping Helps Duvall Homes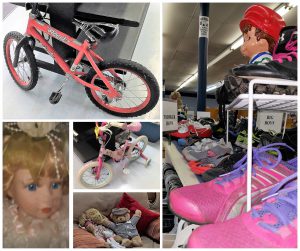 SHOP. DONATE. VOLUNTEER.
Video: Time to Bargain Shop
7000 sq.ft. of Merchandise Waiting For You
Limited Edition Bargain Art Store
Learn more about works of art created by residents of Duvall Homes in our Art For Everyone Program at Duvall's Opportunity Enrichment Center by viewing our very special online Art Gallery. Each year, debuting at our annual Inspiration Gala, special artworks are selected to appear on limited edition mugs or greeting cards. Proceeds from the sale of these items help to enhance the programs and services that enrich and improve the lives of those in our care. View Art Gallery.